Yoni Orgasmic Mapping Bodywork
Yoni Orgasmic Mapping Bodywork to awaken to multiple luminous energy orgasms
YONI WHISPERER "ORGASMIC MAPPING" BODYWORK
SESSION FOUR
EXPAND, CIRCULATE AND INTENSIFY
YOUR FEMININE PLEASURE POTENTIAL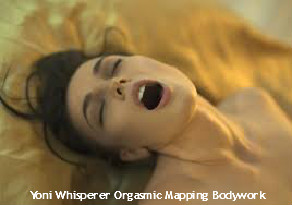 ORGASMIC MAPPING BODYWORK
A session of Yoni Whisperer "Orgasmic Mapping" Bodywork, with Aleena, can be extremely healing, relaxing and orgasmically blissful for a woman.
Holistic and sensual Yoni Bodywork, can assist a female to enter into a down-regulated meditative state on consciousness. In a deep relaxed state of being, like an blossoming flower, a woman's body can open into elevated dimensions of unbelievable orgasmic potential.
Awakening the female genitals and pelvic cavity with specialized Yoni Whisperer Bodywork can assist a women to tap into her dormant sexual energy, also known as Kundalini energy.
A Yoni Whisperer "Orgasmic Mapping" (advanced) session explores external vulva and internal vaginal stimulation and awakening of the K-Spot, R-Spot, Spiral Spot, C-Spot, A-Spot, G-Spot, Pubic & G-Spot blended Clitoral orgasm.
The main focus, of a Yoni Bodywork session, is expanding pleasure into other parts of the female genitals, where the focus is not purely concentrated on the clitoris.
Squirting is always welcome in a Yoni Bodywork session.
Yoni Orgasmic Mapping Bodywork

.
.
.
.
.
YONI ORGASMIC MAPPING BODYWORK (ADVANCED)
A Yoni Orgasmic Mapping Bodywork session is designed for women who have completed at least three "Female Awakening Makeover" Bodywork sessions.Click here to go to that Web Page.
An advanced Yoni Bodywork session, is all about sensually stimulating the Yoni (vulva, clitoris & vagina) to find the different places, internally & externally where a woman can feel pleasure. Because of the media's main focus on the clitoris, many women's orgasms are strictly clitoris focused.
A Yoni Bodywork session, with my exclusive Kinkassage® relaxation, offers a woman the opportunity to experience other varied & different types of external and internal vaginal orgasms.
It is very important for a woman to feel completely relaxed, and able to surrender, while laying on my Kinkassage® massage table. It is my hope that, after three initial Yoni Awakening Bodywork sessions have been completed, that your female body is able to fully let go, relax, forget about your day, and feel pleasure in different parts of your vulva and vagina, pleasure that you may have never felt or experienced before!
A Yoni Orgasmic Mapping Bodywork session explores vaginal stimulation and awakening of the K-Spot, R-Spot, Spiral Spot, C-Spot, A-Spot, G-Spot, Pubic, Clitoris and G-Spot/Clitoral. The focus of your Orgasmic Mapping Bodywork session is to expand, circulate and intensify your orgasmic potential, awakening your female pleasure, where the focus is not concentrated purely on the Clitoris.
WHAT HAPPENS IN A YONI ORGASMIC MAPPING SESSION?
At the beginning of your session we will begin with a chat and a hot or cold drink. We will discuss how you are feeling after your previous "Female Awakening Makeover Bodywork sessions. I will ask you about your orgasmic embodiment home practices and how you are progressing. Once again, we will set boundaries before your session, to create a safe space in which your female body can surrender to touch, release stress and safely stay fully present and in the moment. When you are ready to begin your session, I will ask you to go to the toilet and then disrobe and lay face down on my Kinkassage® massage table.
At the beginning of your session, I will place my hands over your heart and base chakra's, staying open and still, while caring and calming energy flows from my hands and into your body. During your session I will coach you with guided breathing and relaxation utilizing my holistic Kinkassage®, Sexological Bodywork, Shamanic De-armouring, Tantric & Taoist principles.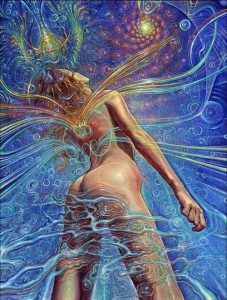 Your COMFORT and sense of SAFETY is of utmost importance to me and starting face down is a very safe and nurturing position. Your session will go at the speed which you are most comfortable, it will be un-rushed and you will need to allow at least two hours, to fully experience your Yoni Orgasmic Mapping Bodywork session.
Once again, you will receive a relaxing Kinkassage® bodywork experience while lying face down and then you will turn over and receive relaxing sensual touch face up. Your Kinkassage relaxation session will go slowly and I will coach you to breathe, be present and surrender into the moment.
After your relaxation bodywork, I will begin your external vulva bodywork and just like your previous sessions, with me, your Yoni Orgasmic Bodywork session will flow into internal Yoni holistic bodywork.
Your session is geared towards experiencing different types of vaginal orgasms and you will have a chance to feel stimulation of the K-Spot, R-Spot, Spiral Spot, C-Spot, A-Spot, G-Spot, Pubic, Clitoris and G-Spot/Clitoral blended orgasm. All Yoni Orgasmic Mapping Bodywork sessions, are based on feeling vaginal orgasm, instead of purely focusing on clitoral stimulation and play.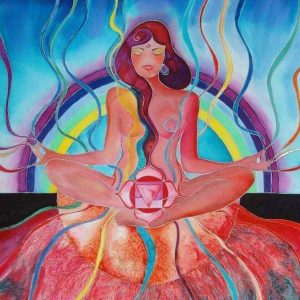 It is my intention to begin with a small orgasm and then build up the intensity of each orgasm that you experience. I will coach you how to expand your orgasmic energy into every cell of your body, so your Yoni Orgasmic Mapping Bodywork session can flow into multiple Luminous Energy Orgasms
At the end of your session, I will cover you with a blanket and allow you to relax, re-coup and I will hold space for you while you come back into the here and now. We will have a chat about how you are feeling, I will give you ideas about your home play orgasmic practice while you have a glass of water.
I have shower facilities, if you would like to have a shower before you go home.
As you leave, I will walk you to your car.
.
.
WHAT TO EXPECT IN YOUR YONI ORGASMIC MAPPING BODYWORK SESSION?
Kinkassage® Duality Relaxation Bodywork
Yoni Orgasmic Mapping Bodywork to awaken full-body bliss & pleasure
Yoni Orgasmic Mapping so you can find your K-Spot, R-Spot, Spiral Spot, C-Spot, A-Spot, G-Spot, Pubic & the finalé a G-Spot / Clitoral expansive blended orgasm.
Yoni Orgasmic Mapping Bodywork to assist awakening female squirting, if that is your goal
Personalized Pleasure Coaching
Breathing exercises to move arousal and awaken sexual energy pathways
Sensate touch bodywork
Learning to be present while relaxed into the moment
Experiencing Sub-Space
Learning to ask for what you want
Shamanic buttock and body de-Armoring
Chi Nei Tsang abdominal massage
Whole body vibration for Chakra activation
Pudendal nerve awakening to bring pleasure ALIVE!
Pelvic nerve and Vegas nerve activation
Awakening of over 15,000 nerves in the pelvic cavity
Heightened ecstatic states of consciousness

Home Play

– Personalized Embodiment Home Practice
A positive and safe experience

Yoni Orgasmic Mapping Bodywork

is a holistic sexual healing session designed by Aleena Aspley Australia and

Kinkassage®

Kinkassage®

is a Registered Trademark of

Aleena Aspley Australia
.
.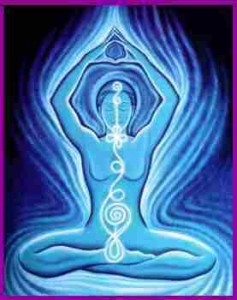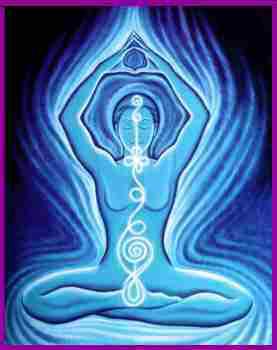 THE BENEFITS OF BOOKING A YONI ORGASMIC MAPPING SESSION
Our sessions are Professional & Respectful
You will be in a SAFE and clean studio environment
Holistic heartfelt & intuitive bodywork
Experience trademarked sensual Kinkasage® relaxation
Drop into zero brain chatter – great for the lady business professional
Profound relaxation into Theta Brain Waves
Your body may tingle with our sensate body-touch-techniques
Learn sound, breath and movement Tantric coaching to circulate your erotic energy
Learn energy presence and intention techniques
Learn how to ask for exactly what you want
Address sexual issues and limitations
Experience Chi Nei Tsang pelvic release techniques to release tension
Awaken your female body into ecstatic pleasure states
You will be personally coached to experience MORE PLEASURE
You will leave my massage studio with a smile from ear to ear.
.
.

.
.
MY FIVE UNIQUE SESSIONS OF
YONI WHISPERER BODYWORK
#1

Tantric Presence, Breath & Grounding External Intimate bodywork

#2

Relaxation & Internal Vaginal Mapping to open to pleasure & release trauma

#3

Bliss Body Pleasure Mapping combined with more Vaginal Mapping Bodywork

#4

Orgasmic Mapping Bodywork (Exploring different Vaginal Orgasms)

#5

Exploring, Experiencing & Understanding Tantric Kink with Domination
.
Yoni Orgasmic Mapping Bodywork
YONI ORGAMIC MAPPING BODYWORK (Session Four)
.
.
FEMALE AWAKENING MAKEOVER BODYWORK
.
.
FEMALE ORGASMIC MAKEOVER BODYWORK
.
---
.
OUR YONI WHISPERER BODYWORK PRACTITIONERS:

Click on the Profile Pictures below to be taken to your chosen Practitioners Webpage
.
---
.

Yoni Orgasmic Mapping Bodywork