BY LARA CATONE  www.LaraCatone.com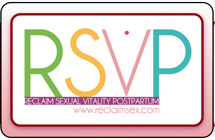 Exhaustion, leaky breasts, spit up, hormones that climb and dive like the hills of a roller coaster—the reality of new mommyhood does not necessarily sound like a steamy recipe for a hot sex life. Not to mention a baby in your bed, new pressures on your relationship and vaginal dryness, scarring and pain. A recent survey says that 25% of relationships become sexless following the birth of a baby. Many sex experts estimate that this number is closer to 50%.
As a birth doula and childbirth educator I see many empowered women passionately prepare for their labors and births—reading, researching, talking to other moms and taking prenatal yoga and birthing classes. These women and their partners are well equipped for all that they might experience during the sacred transition into parenthood. What I have heard countless times from the couples I work with is that they wish they could have been more prepared for what happens when the baby actually arrives. As a sexual wellness educator I see that my students who have had children are often looking how to rekindle their relationships and experience more pleasure.
Perhaps one of the reasons pregnant women don't find themselves preparing as much for the postpartum period is that there is much less widespread and specific information on the changes that occur during this period than there is for their births. Through modern living we have lost the tribal structure of support from other women and today moms often feel isolated and alone at this time. Culturally, the topics of vaginal changes, painful sex, relationship challenges and feelings of depression are still taboo in many ways. Focus among friends and family tends to be around the joy of the sweet new baby. Postpartum care from doctors and midwives typically ends after just a few weeks so professionals are not checking in on these topics with women throughout these crucial first few years of motherhood.
Two women, Jaiya and Ellen Heed, are on a mission to shift this cultural phenomenon and illuminate the mysteries of postpartum health and sexuality through their program Reclaiming Sexual Vitality Postpartum, or RSVP. Jaiya, a world-renowned somatic sexologist, was left with trauma and scarring from a tear following her beautiful home waterbirth. Months later, sex was extremely painful and she was devastated that her sex life and career may be over. A vehement researcher and self-proclaimed "anatomy geek," Jaiya was dumbfounded that she couldn't find more information on all of the changes she was experiencing. Just when she had lost almost all hope, she went to see Ellen, also a certified somatic sexologist, world-renowned craiosacral therapist and specialist in scar tissue resolution.
After just one session with Ellen, Jaiya's scar and subsequent pain began to disappear. She felt renewed and hopeful. Jaiya became passionate about restoring her vitality and energy in addition to releasing pain. Through her work with Ellen and own self-care, Jaiya claims to have found the best sex of her life! What transpired from Jaiya and Ellen's meeting and the results they discovered was a year long in depth research study on postpartum sexuality. Their findings have led to the development of a comprehensive and wholistic program for postpartum women and couples that is a first of its kind. RSVP addresses sexual healing, intimacy, communication, empowerment, self-care, nutrition, fitness and more.
Ellen and Jaiya are educating men and women on the basics of how anatomy affects sexuality, the importance of understanding hormonal cycles and exercises for rebuilding connection in partnerships. One of the most incredible things that I have learned from Ellen and Jaiya is the pervasiveness of scar tissue for women who have had either vaginal or cesarean birth, how this scar tissue is causing unnecessary pain and how easy and simple it is to dissolve when you have the right tools. Scar tissue from cesarean birth or vaginal tears and episiotomy can manifest as changes in skin and appearance, pain in the low abdomen and vagina, discomfort in sex and urinary and fecal incontinence. Unfortunately, there have been very few solutions offered to women to deal with these issues beyond surgery (And surgery causes more scar tissue!). So many women are walking around with unexplained pain and problems; it's time to spread the word that they are actually answers out there!
We all deserve to feel our best, to have thriving relationships, intimacy and sexual pleasure. While juggling the demands of modern motherhood can be a challenge, it doesn't have to feel depleting and overwhelming. With the right resources women can begin to better support themselves and one another through this powerfully transformative time.
Ellen and Jaiya have sparked a crucial discussion and are igniting a new community via their online course. Learn about their online course here: reclaimsex.com.
For additional education and resources around scar tissue or postpartum health feel free to contact:   Aleena Aspley, Brisbane Queensland Australia  at AleenaAspley@bigpond.com