BONDASSAGE with Mistress Aleena – Brisbane
Thank you Mistress for a wonderful 2 hour Bondassage experience on Monday 25th June 2012.
I was very apprehensive at first, however you made me feel at home and relaxed pretty much right away (you have a great warming smile…)
After understanding what I was about to go experience, I was shortly blindfolded with headphones on, (visual sensory deprivation) and "THAT IS WHERE THE FUN BEGAN!"
There is no real way to describe the Bondassage experience, you will just have to find out for yourself, however I lost count of the amount of times I orgasmed over the two hours
Even on the way home I was having mini orgasms along the way.
Go see Mistress Aleena, I will guarantee it will be an adventure you will never forget, (and wanting for more)!  Rob via Email 30/6/12.
<><><><><><><><><>
BONDASSAGE with Mistress Maria, Christchurch, New Zealand
I recently had the pleasure of visiting Maria for my first ever Bondassage session and I must say it was truly incredible!  I had emailed and phoned her before my visit and appreciated her openness and information that she provided.  I visited Maria at her place and received a warm welcome; Maria dressed in a nurse's uniform as per one of my fantasies I had revealed to her.  Maria's Bondassage room was warm and inviting and with Maria's friendly and genuine manner, I felt very relaxed right from the start.  We chatted for a while and Maria explained what was going to happen (in general terms – no secrets given away!) and assisted me to get undressed in preparation for the session.
Maria then put a collar on me explaining that this was to reinforce "that I was hers" for the time I was with her.  She also put wrist and ankle cuffs on me.  I found this really erotic and arousing and was happy to be under her control.  She helped me on to her massage table where I lay face down with a pillow placed under my hips.  Maria put a soft blindfold on me and then some headphones.  She then secured my wrists and ankles to the sides of the table and started some relaxing music playing.
Maria then massaged me with soft hands and warm oils and used hot towels now and again.  She also used a number of instruments and probes which again was extremely arousing and stimulating while being relaxing at the same time.  Half way through our hour and a half session, Maria released my restraints, turned me over and refastened the restraints whilst ensuring a pillow was under my bottom.  Again Maria massaged, teased and controlled my body which reacted in many different ways to her touches etc.  Towards the end of the session there was a very happy ending!
Once the session had finished, Maria slowly released my restraints, earphones and blindfold and gently brought me back from a world of relaxation, sensual sensation, pleasure and dominance – I did not want it to end.  Once I had come to, Maria took me to a shower, showered me and back in the room, got me dressed.  Our time together was simply amazing.  Due to my disability, I require assistance with undressing, showering, dressing – all of which weren't a problem for Maria and which made the whole experience for me even better.
I am a Bondassage covert already and will certainly be back for more.  Maria is such a wonderful person and provided me with an experience that I have not had before.  The combination of submitting to Maria's control combined with what I'll call a dominatrix style massage was absolutely amazing.  It was intense, erotic, sensual, powerful and relaxing all in one.  I can't wait for my next session with Maria and as we get to know each other, perhaps including other elements that fulfill my fantasies!!
<><><><><><><><><>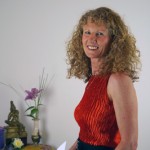 BONDASSAGE WITH Ixchel, Perth, WA
"Masterful massage, sensual flogging, fur mitts, feathers, light wicked spanking.  I was in heaven."  Beth